So I have couple more projects done for Levi's room. And I think I am making good progress. I have lots more ideas, but only a little bit of time to actually work on them. Here's what I've done this weekend.
Next up this letter wall art piece thingy...don't you like the names I come up with for my finished projects?
Okay, so I had these old letters that were painted brown, originally hung up in his room with cute green ribbon that spelled out his name. I had ripped the baby-ish ribbons off the back knowing I wasn't going to put them up in his new room looking like that. This was his big boy room, so no RIBBONS! I kept the letters for a while before thinking up what I wanted to do with them.
Today I spray painted the L letter blue (same color I used for the records) and got out a couple of frames and spray painted them as well (the smaller one is from the dollar tree and the larger one was given to me a few years ago but I never used it for anything). After painting everything I took the backing from the larger frame and covered it in the brown burlap we had left over from the bookshelf. I hot glued the L to the burlap, and then the white frame to the burlap. I put them back into the larger frame and then hung the piece on his wall.
Closer look:
Uggh, on a side note, our air is broke and so is our heater...it is 90.5 degrees in our house and has been almost all day. Need proof?
Okay, well I hope you like some of the ideas and projects I shared. I love reading all your blogs and finding many more ideas/projects to try out.
linking up to-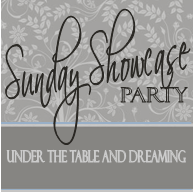 Linking up to