This is an easy and inexpensive way to dress up your plain white flour sack towels…
Pin It
Yesterday I really just felt the urge to paint something. I HAD to paint. So I busted out some plain white flour sack dish towels that I had hoarded away, and got to work.
I laid down an old table cloth that we no longer use, and spread my towel out on top.
Then I started taping my lines on the towel.
I chose all my different paint colors, and worked with three different brands of paint/fabric paint. I wanted to used what I had on hand and I liked getting to experiment with the 3 different paints.
I used Tulip's Soft Fabric paint for the turquoise and navy blue ombre striped towels…
Plaid's Simply Screen Water-Based Screen Printing Paint for one of the red and the purple towels…
And I used Martha Stewarts Multi-Surface Acrylic Craft Paint and Fabric Medium for one of the red towels, and the green one.
I painted the first stripe without adding any white to the paint
For my second stripe I added a little bit of white paint to the color, and kept adding more white paint as I continued with my stripes.
When I was done painting the stripes, I pulled the tape off right away and hung the towel up in a safe place to dry to dry. Once the paint on the towels was dry I used my iron to heat set the paint in. In a couple of days I will wash them.
You can find flour sack towels at Walmart, Target, and tons of other places. They usually run $3-4 for a pack of 2-4. And the paints I used are really inexpensive too. One tube of the Tulip or Martha Stewart paint would probably cost you $1.50-$2. And I believe the Fabric Medium costs about $5-$6, and that's without a coupon. (It lasts for a long time though, I have used it with several projects and still have a pretty full bottle.)
This is a really easy and inexpensive way to add some color and personality to your plain white flour sack towels, and I think they'd even make a fun gift to give to a friend.
I'd love to know if you try it out, or if you have done any ombre projects yourself!

and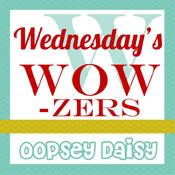 WhipperBerry